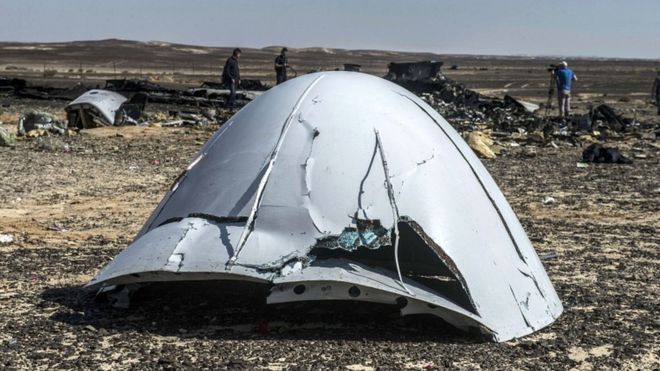 The Russian airline Kogalymavia has blamed "external activity" for Saturday's Sinai plane crash which killed 224 people.
One airline official said: "The only reasonable explanation is that it was [due to] external activity."
An investigation by aviation experts using data from the aircraft's "black boxes" has yet to give its conclusions.
A Kremlin spokesman has told the BBC terrorism could not be ruled out as a possible cause of the crash.
At a news conference in Moscow, the deputy director of the airline, which was renamed as Metrojet, ruled out a technical fault and pilot error.
"The only [explanation] for the plane to have been destroyed in mid-air can be specific impact, purely mechanical, physical influence on the aircraft," Alexander Smirnov said.
"There is no such combination of failures of systems which could have led to the plane disintegrating in the air," he added.
Another airline official acknowledged that there had been previous damage to the plane's tail in 2001 during take-off.
But he said that the damage had been repaired, and was not thought to be a factor in the crash.
The plane lost speed and started descending rapidly, and the crew made no attempt to contact and report about the situation on board, Mr Smirnov added.
Saturday's disaster happened shortly after the Airbus 321 took off from the Egyptian resort of Sharm el-Sheikh.
http://www.bbc.co.uk/news/world-europe-34697416