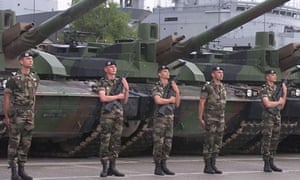 French troops on parade at the Toulon naval base.
Authorities in France have said they arrested a man with links to an
Islamic State
jihadist in Syria over a plot to attack military personnel at a major naval base.
Police and judicial sources said the 25-year-old had been monitored by intelligence agencies after trying unsuccessfully twice in 2014 to travel to Syria. He was detained in late October and charged on 2 November.
The interior ministry said in a statement that the man had been under surveillance "because of his radicalisation and public support for jihadist ideology" and had "attempted to acquire material to carry out a violent attack on Navy personnel in Toulon".
While he was being monitored, he had a parcel delivered by the post office which was found to contain a combat knife and a mask.
During questioning he admitted he had been in contact with a Frenchman currently in Syria with Isis who had encouraged him to act, a source close to the case said.
He eventually admitted plotting to attack sailors at the Mediterranean base of Toulon, home to 70% of the French fleet and 20,000 military and civilian personnel, though a police source said he had not formed a detailed plan.
One source said the French Isis fighter had himself been held for several months in
France
for making violent threats against the satirical magazine Charlie Hebdo in 2012.
In January 2015 Islamist gunmen carried out a string of attacks in Paris that left 17 dead, including much of the editorial team of the magazine. The country has been
on high alert since
and several other attacks have reportedly been foiled.
Attacks by extremists returning from Syria or in online contact with jihadists there figure high among the French intelligence services' worries. More than 500 French fighters are thought to be with Isis in Syria and Iraq, according to official figures, while 250 have returned and some 750 expressed a desire to go there.
http://www.theguardian.com/world/2015/nov/11/france-says-toulon-naval-base-attack-foiled-with-arrest-of-jihadist