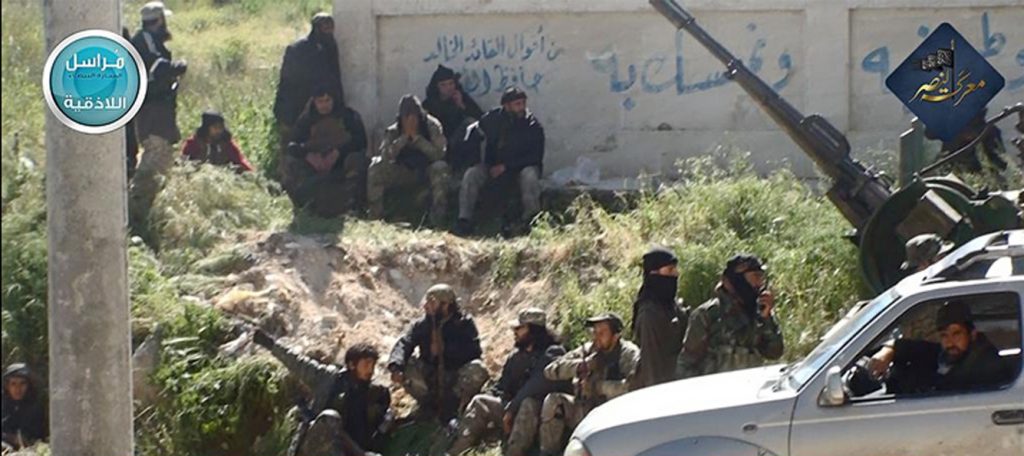 One of the most worrisome trend lines in the Syrian civil war has been the accelerated growth of al Qaeda's Syrian affiliate, Hayat Tahrir Al-Sham (HTS), which seized control of Syria's northwestern Idlib province over the summer and has transformed into the de facto face of the country's anti-Assad campaign.
Throughout the six-year-old Syrian civil war, numerous militias, such as the Turkish-backed Ahrar al-Sham, have taken up arms against Syrian President Bashar al-Assad as they attempt to force the loathed leader from power.
Other rebel factions, however, including the Kurdish People's Protection Units (YPG) and the U.S.-backed Syrian Democratic Forces, have prioritized ousting ISIS from its strongholds in the northern Syrian city of Raqqa as well as in Syria's eastern Deir e-Zour province.
As different groups gain or cede territory over the course of the conflict, HTS' power and prestige among the Syrian people has only increased.
"HTS is emerging as the most formidable fighting force in Syria and is attracting more and more jihadists – foot soldiers and leaders – from other groups inside the country," says Emile Nakhleh, Cipher Brief expert and a former member of the CIA's Senior Intelligence Service. "HTS' three-pronged strategy of appearing more Syrian, more focused on Assad, and more anti-Shia is enhancing its credibility and legitimacy, and propelling it to the forefront of the anti-Assad jihad in Syria."
Last month, while speaking at an event at the New America Foundation, former White House counterterrorism director Joshua Geltzer called the threat posed by al Qaeda in Syria billed the jihadist group as the al Qaeda network's "largest global affiliate," with an
estimated
force of at least 10,000 fighters.
Al Qaeda's Syrian offshoot developed in 2011 against the backdrop of Syria's civil war. The group, then known as Jabhat al-Nusra or the al-Nusra Front, quickly emerged as one of the most potent rebel movements fighting Syrian President Bashar al-Assad. In January 2012, it released its first video outlining its objectives: overthrow Assad and institute an Islamic government in Syria based on Sharia law.
The U.S. State Department designated al-Nusra Front as a terrorist organization in December 2012, and the organization continued to serve as al Qaeda's official affiliate in Syria until last summer when its leader, Abu Muhammad al-Julani announced that his group was "splitting" from the al Qaeda network and rebranding itself as Jabhat Fateh el-Sham (JFS).
Counterterrorism experts immediately
dismissed
the idea that a real separation had occurred. Pointing out that just a few months prior, al Qaeda emir Ayman al-Zawahiri had issued a statement in which he offered his blessing for al-Nusra to break away from al Qaeda and unite with other jihadi factions fighting in Syria, many saw this simply as a means of procuring new partnerships and additional sources of financing from individuals and organizations hesitant to support an overt al Qaeda branch. Moreover, during his video announcement, Julani declared his reverence for Osama bin Laden and his intention to establish an Islamic state in Syria, further indicating his continued adherence to al Qaeda's doctrine.
This January, JFS merged with four smaller Syrian jihadist factions to form an umbrella organization called Hayat Tahrir al-Sham (HTS), which now dominates the two million people living in Idlib province, the most populous area held by rebels.
Since the group's latest rebranding, it has accumulated strength at an alarming rate, managed to essentially push its main rival, the Turkish-backed Ahrah al Sham, out of Idlib province, and worked to present itself as an anti-Assad force fighting on behalf of the Syrian people instead of a purely jihadist movement – all while likely retaining its clandestine ties to al Qaeda, according to counterterrorism expert Daveed Gartenstein-Ross.
Earlier this month, HTS faced a minor setback after two of its significant fighting factions, Nour el-Din al-Zinki and Jaish al-Ahrar, broke away from the alliance. Then last week, HTS announced a change in leadership as Julani was appointed to head the organization in place of Abu Jaber al-Sheikh, who was selected as leader when the groups merged in January. HTS gave no reason for the resignation, adding in a statement that al-Sheikh had been appointed head of its Shura Council.
Nonetheless, by emphasizing its anti-Assad campaign, HTS has managed to tighten its grip on Idlib province and galvanize support under the radar while ISIS bears the blunt of U.S. and international force.
"Jihadist groups have a tendency to intermingle the local with the transnational, so we should not take its current local prioritization as unchangeable," Gartenstein-Ross told The Cipher Brief. "But," he said, "the group is currently emphasizing the local, while its overarching objectives remain transnational."
And despite its targeted, anti-Assad messaging in Syria, HTS' long-term objectives still align with al Qaeda's desire to attack the "far enemy," the United States.
"If HTS believes that American forces and military operations in Syria aim at thwarting HTS' goal of toppling the Assad regime and establishing a Sunni emirate, the group will begin to engage American troops in Syria," Nakhleh explains.
"Once it achieves its short-and medium term objectives, the threat to the U.S. becomes more real."
https://www.thecipherbrief.com/al-qaeda-spinoffs-rise-syrian-ashes