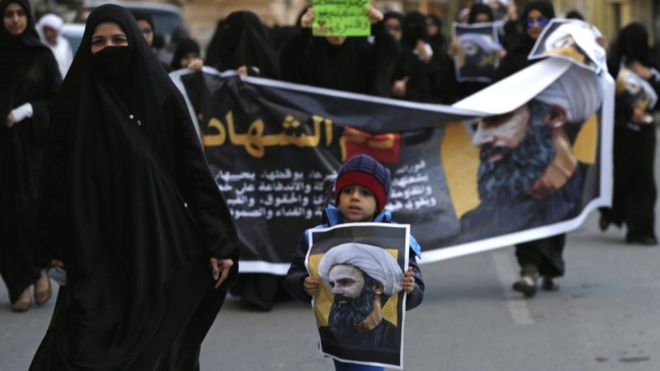 Saudi Arabia on Sunday gave Iranian diplomats two days to leave after a row over the Saudi execution of a top Shia Muslim cleric and a subsequent attack on its embassy in Tehran.
Saudi Arabia and Iran are the key Sunni and Shia powers in the region and back opposing sides in Syria and Yemen.
Bahrain is ruled by a Sunni Muslim king but its population is majority Shia.
The kingdom on Monday gave Iranian diplomats 48 hours to leave the country.
It accused Iran of "increasing, flagrant and dangerous meddling" in the internal affairs of Gulf and Arab states.
It said the attack on the Saudi embassy was part of a "very dangerous pattern of sectarian policies that should be confronted... in order to preserve security and stability in the entire region".
Bahrain, which hosts the US Navy's 5th Fleet, has frequently accused Iran of supporting a low-level Shia insurgency that flared following the regional Arab Spring uprisings in 2011.
There are fears sectarian strife may spread in the region following the execution of Sheikh Nimr al-Nimr and 46 others in Saudi Arabia on Saturday after they were convicted of terror-related offences.
On Monday, two Sunni mosques in Iraq were bombed and an imam killed.
Saudi Arabia announced late on Sunday that it was severing diplomatic relations with Iran after demonstrators stormed the Saudi embassy in Tehran. It has recalled its own diplomats.
Iran's foreign ministry on Monday accused the Saudis of "continuing the policy of increasing tension and clashes in the region".
Ministry spokesman Hossein Jaber Ansari said: "Saudi Arabia sees not only its interests but also its existence in pursuing crises and confrontations and attempts to resolve its internal problems by exporting them to the outside."
He defended Iran's response to the embassy attack, saying it had "acted in accordance with its obligations to control the broad wave of popular emotion". Fifty arrests were made.