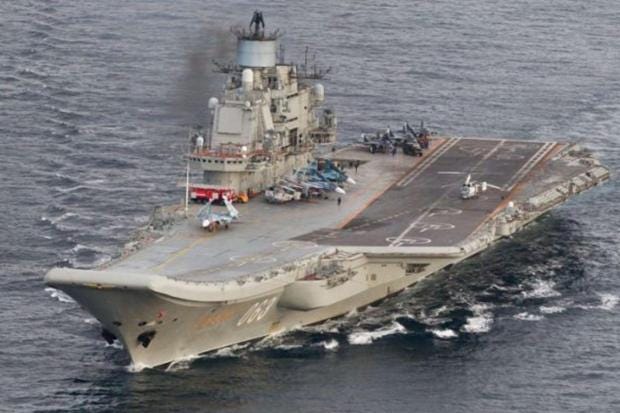 A
Russian fighter jet
crashed in the Mediterranean Sea near the coast of Syria after taking off from the flagship Admiral Kuznetsov aircraft carrier.
Three MiG-29 jets took off from the Soviet-era aircraft carrier and flew in the direction of Syria,
two US officials told Fox News
, before one appeared to have mechanical issues and turned back towards the carrier.
It then crashed in the water while attempting to land. A Russian rescue helicopter picked up the pilot.
Russia's defence ministry said the pilot is safe after he ejected from the plane, state media reports.
The defence ministry said the jet crashed due to a technical problem while on its way to land on the carrier, but didn't elaborate further on what went wrong.
Flights in the Mediterranean will continue despite the accident, the ministry added.
The Admiral Kuznetsov aircraft carrier was part of Russia's
largest military deployment since the end of the Cold War
and sailed through the English Channel on its way to Syria.
The carrier and escorting ships arrived in the eastern Mediterranean Sea last week and pilots from the carrier have reportedly been conducting survey flights over Syria.
It is feared the Russian fleet will be used in a
final devastating attack
on the rebel held city of Aleppo.
http://www.independent.co.uk/news/world/middle-east/russian-fighter-jet-crash-mediterranean-sea-syria-admiral-kuznetsov-aleppo-a7417111.html