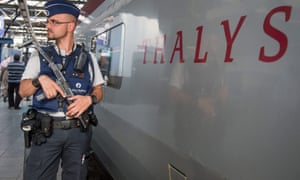 A police officer patrolling at Brussels Midi station. Security has been beefed up after two US soldiers overpowered an armed man on a French Thalys train. Photograph: Stephanie Lecocq/EPA
European countries will increase identity checks and baggage controls on trains after American passengers
thwarted an attack
on a high-speed train from Amsterdam to Paris, France's interior minister has said.
Bernard Cazeneuve said the checks would be carried out "everywhere it is necessary" but did not give other details. He spoke after an emergency meeting in Paris with EU security and transport officials alongside representatives from nine countries, in the wake of last week's attempted attack.
He called for better coordination on intelligence and security across Europe's border-free travel zone, and "coordinated and simultaneous actions" by European security forces, saying that was indispensable to protecting train travel.
He also said officials were looking at ways to work with the aviation industry on improving train security.
The suspect in last week's attack had been known to European intelligence but paid for his ticket in cash and showed no ID, and brought an automatic rifle and a handgun on board unnoticed.
The ministers were also talking about giving train security staff more powers, and increasing the number of mixed patrols of international police teams on cross-border trains, according to four French security or justice officials, who spoke on condition of anonymity as they weren't authorised to speak publicly on the matter.
The principles of Europe's border-free travel, known as the Schengen zone, were not under discussion at the meeting. The security officials said there was no way to monitor each passenger and bag without choking the continental train system, which Europeans rely upon heavily.
"We can't do, and don't want, complete, comprehensive checks on people or luggage in trains in
Germany
or Europe," German interior minister, Thomas de Maizière, said. He said the main issue was to improve targeted cooperation and the exchange of information on suspicious people.
France
sees tens of thousands of international train passengers daily, in addition to millions of daily domestic train travellers. The country's national rail authority, SNCF, is concerned about the cost of additional security, according to one of the French security officials.
Countries involved in Saturday's meeting were: France,
Belgium
, Britain, Germany, Italy, Luxembourg, the Netherlands, Spain and Switzerland, as well as the EU's top transport and interior affairs officials.
EU officials were expected to press for the increased use of CCTV cameras in trains and stations and more metal detectors at entrances.
The European commission was expected to raise the idea of using full-body scanners for people who try to board at the last minute. Another idea is the more concerted use of passenger information, which some companies already collect, like the traveller data collected for air transport. Plainclothes "rail marshals" were another possibility.
The results of Saturday's conference will be debated by Europe's rail security group on 11 September and forwarded for EU transport ministers to discuss when they meet on 7-8 October
.
http://www.theguardian.com/world/2015/aug/29/eu-identity-checks-france-train-attack-bernard-cazeneuve