Increase of 54% to 400 in year to September due partly to 64 arrests following London and Manchester attacks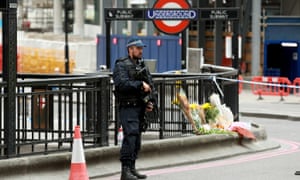 The number of people arrested over terrorism-related offences in Britain has risen by 54% to 400 in one of the most intense periods for attacks in recent history.
The Home Office said the increase in the year to September was due partly to the 64 arrests made after the attacks in London and
Manchester
, bringing the total to the highest number since records began in 2001.
The figures reflect the growing threat from Islamist terrorism in Britain. The director general of MI5, Andrew Parker,
spoke in October
of "a dramatic upshift in the threat this year" to "the highest tempo I've seen in my 34-year career".
The figures show 12 people were arrested for the
Westminster Bridge attack
, 23 for Manchester Arena, 21 for
London Bridge
, one for Finsbury Park mosque and seven in connection with Parsons Green.