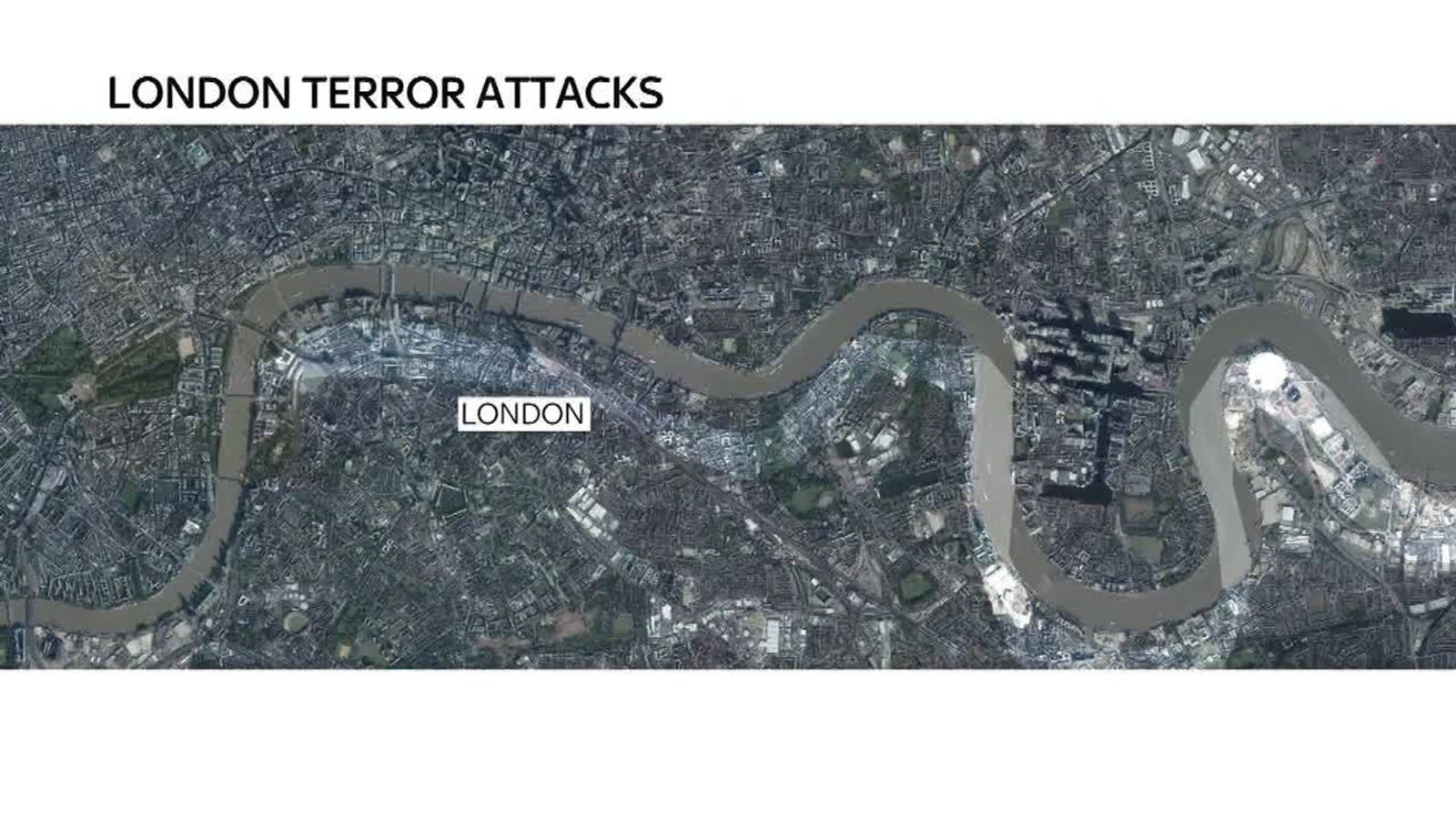 At least seven people have been killed and 48 injured in central London after attackers drove a van into pedestrians before stabbing others nearby.
The vehicle was driven at high speed into people on London Bridge just after 10pm on Saturday and then continued to Borough Market.
There, the attackers, reportedly armed with foot-long knives, jumped out of the white van and stabbed people, including a British Transport Police officer who has serious but not life-threatening injuries to his face, head and leg.
Within eight minutes, armed police confronted three male attackers, shooting them dead in Borough Market.
Eight minutes of terror: What happened where
Metropolitan Police commissioner Cressida Dick condemned the atrocity as "appalling" and "ghastly". She said police believe all attackers had been "neutralised".
Referring to the speed with which officers were able to respond to the incident - in just eight minutes - she said: "We were already at a very high level of alertness.
"Severe means that an attack is highly likely and the threat level was at severe. We were prepared potentially for an incident as we have been for some considerable time."
Appealing to Londoners and visitors "to remain calm, be very vigilant", she also warned: "The last thing we need is people overreacting or take out there frustrations on other people in other communities".
Asking people to contact police if they see anything out of the ordinary, even if insignificant, she said where possible "people should carry on with their normal lives".
The injured were taken to five hospitals across London, according to the city's ambulance service. More were treated at the scene for less serious injuries.
France's President Macron said two of the victims were French citizens, with one in a serious condition.
:: Witnesses tell of gunfire and stabbings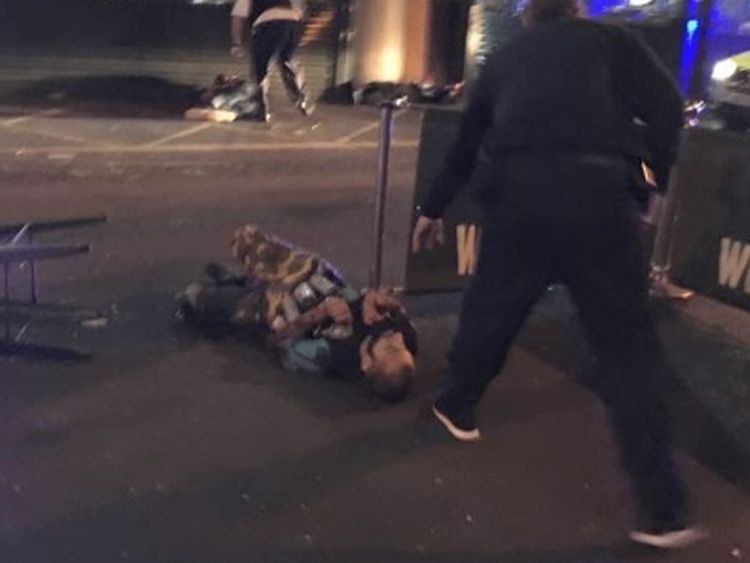 ::
The moment police took down terrorists
The Premier Bankside hotel was evacuated and three hospitals - Guy's, St Thomas' and Evelina London Children's - went into lockdown "to keep patients, relatives and staff safe".
Police also responded to an incident in Vauxhall at 11.45pm but later said this was a stabbing unrelated to the two terrorist incidents.
::
Trump uses London attack to promote travel ban
Prime Minister Theresa May has returned to Downing Street for security briefings and will chair a meeting of the Government's emergency response committee - Cobra - later today.
She said the "terrible incident" was being treated as a "potential act of terrorism".
National campaigning in the General Election has been suspended by the Conservatives and Labour in the wake of the attack, with the PM likely to come under pressure to cancel or postpone Thursday's poll.
But London Mayor, Sadiq Khan, who described the atrocity as a "barbaric act", has insisted he is not in favour of delaying the election.
He said: "One of the things we can do to show we are not cowed is to vote in the General Election on Thursday."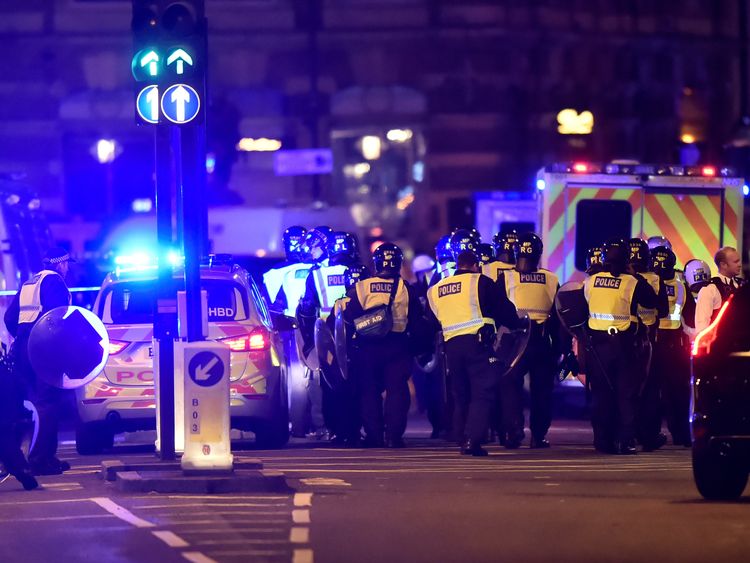 Spectator journalist Will Heaven was at London Bridge shortly after the incident and wrote on Twitter that he had seen casualties - one on the pavement and one on the edge of the road.
He told Sky News: "It was about 10.15pm. I was in the back of an Uber cab driving over London Bridge...there was somebody down on the pavement with a small crowd around them clearly very concerned.
"It looked like someone had collapsed. We drove a bit further and noticed there was another person on the right hand side of the bridge who was also not on the pavement but in the road itself.
Was it a mistake to lower the UK terror threat?
"The penny dropped something quite serious was happening. Suddenly the traffic came to standstill. The driver said something bad is happening here.
"We could hear sirens coming and the suddenly ahead of us we noticed another casualty in the road."
He added that "it did not look like an accident", adding it was clear that police "thought they were responding to something far more serious than a road traffic accident".
A witness who gave his name as Jamie was in a restaurant near London Bridge. He said: "We heard a fight and everyone got up and everyone rushed out of the restaurant and we heard a massive, massive bang.
"Then we hid under the table and people came into the restaurant and knocked a bunch of stuff over, like the till.
"And then we ran into the restaurant into the kitchen, where there was a bunch of other people and a guy had been stabbed and he was cut and he was bleeding quite a lot."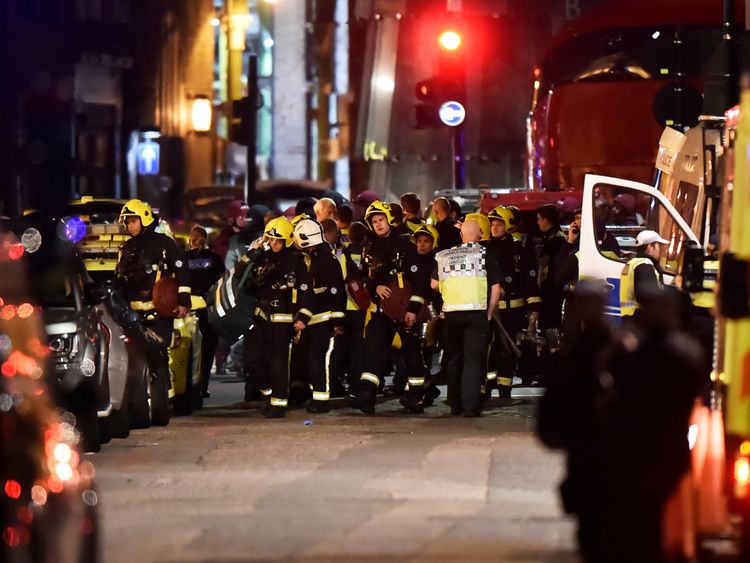 ::
Stars to sing at concert 'with greater purpose'
A female companion said: "We were in the restaurant and we just saw three guys come into the restaurant, stabbed someone in the face and someone in the stomach.
"One of them had a big knife, then he came in and walked around the restaurant, I guess they just kind of stabbed anyone that they saw and knocked things on the ground and then we just hid."
Police asked people to avoid the areas affected, with London Bridge being closed in both directions.
London Bridge, Bank, Vauxhall and Borough stations were closed, although Bank and Vauxhall have since reopened.
The attacks come less than two weeks after a suicide bomber killed 22 people at a concert in Manchester.
Ariana Grande, who had been performing that night, tweeted: "Praying for London".
:: Anyone concerned about friends or relatives who may have been caught up in the attacks can call the police casualty bureau on 0800 096 1233 or 020 7158 0197.
http://news.sky.com/story/knife-attack-after-car-mounts-pavement-in-london-reports-10903580
UPDATE
Raids taking place across the Barking region of London, 12 arrests made at one apartment block. More raids are going on.