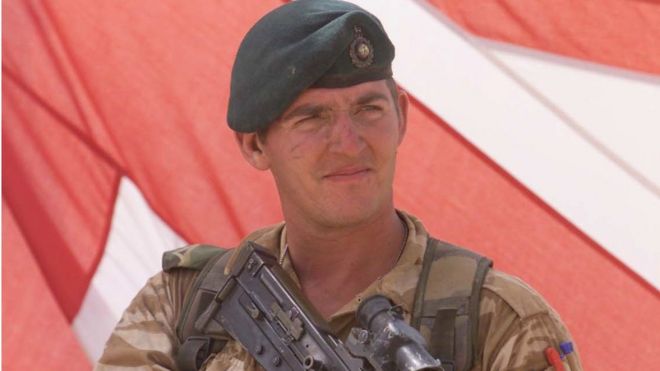 Sgt Alexander Blackman had his murder conviction reduced to manslaughter
The Royal Marine jailed for shooting dead a wounded Taliban fighter has been released from prison.
Sgt Alexander Blackman received a life term in 2013 for murder, but his conviction was reduced to manslaughter.
The 42-year-old from Taunton, Somerset, served more than three years of a seven-year sentence.
Judges at the Court Martial Appeal Court were told he had a recognised mental illness at the time of the killing in September 2011.
Blackman - who was known as Marine A during the original trial process and fully identified when he was convicted - was serving his sentence at Erlestoke Prison, near Devizes, Wiltshire. He was released at 00:18 BST.
The appeal hearing came after his wife Claire led a campaign alongside author Frederick Forsyth and the Daily Mail newspaper.
Blackman had more than 13 years of service and had previously been deployed to Iraq on three occasions and to Afghanistan in 2007.
The Royal Marine's barrister, Jonathan Goldberg, said he had been approached about making a film about Blackman's story.
"The case is controversial - this is obviously why Hollywood want to make a film about it," he said.
"I was there last week meeting some important people, and the idea is that Kate Winslet might be cast as Claire, Tom Hardy as Al and - can you believe it - Al Pacino as me."
His supporters had hoped the quashing of the murder conviction would lead to his reinstatement in the Royal Marines.
However, the judges at the appeal hearing said his dismissal from the service should remain.