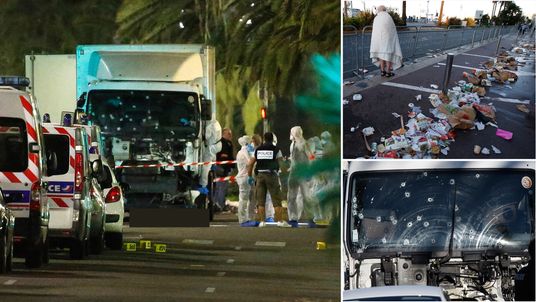 At least 84 people have died and dozens are hurt after a terrorist drove a truck through crowds along Nice's packed waterfront.
Ten children were among the dead after the driver hit people celebrating Bastille Day along the famous Promenade Des Anglais.
Fifty more children are being treated at the children's hospital in Nice, some with "life and death" injuries.
Video footage shows police trying to stop the lorry before it picks up speed, slamming into revellers at the end of a fireworks display.
A motorcyclist who tried to block the lorry was run over, witnesses said.
Others said the driver swerved from side to side to kill as many people as possible along more than one mile of the promenade.
Many terrified revellers fled into the sea to escape the attack, which happened at about 10.30pm on Thursday.
The truck eventually came to a stop after someone jumped onto the side of it, as people screamed for the driver to stop.
The attacker then emerged from the vehicle and was confronted by revellers, some of whom thought it was still an accident.
One, Egyptian Nader El Shafei, told BBC Radio 4: "The guy was very nervous and I tried to talk to him.
"I was just in front of the window of the truck and trying to wave to him to stop and tell him there is a lot of people under his truck.
Video:
Moments Before Truck Hits Crowd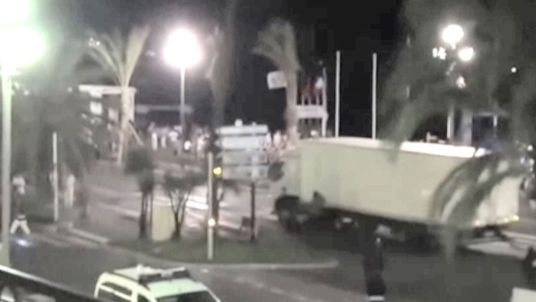 "So in that time all of us thought it was just an accident and he had lost control. Suddenly I saw him taking out his gun."
The gunman was then shot dead by police.
Mr El Shafei added: "Just when they (the police) arrived they just felt something was wrong so they kept yelling at him and when he did not step out - they saw him from the window taking his gun out.
"They knew that would be a gun shooting so they just killed him right away - they did not wait to negotiate or something, they just opened fire on him."
Mobile phone footage, shot by Mr El Shafei, shows police surrounding the lorry, firing their weapons at the driver.
Several guns and grenades were found inside the vehicle, Christian Estrosi, president of the region, has confirmed.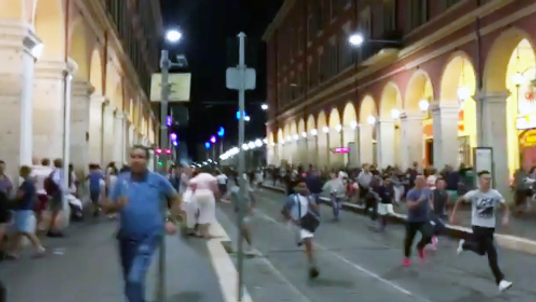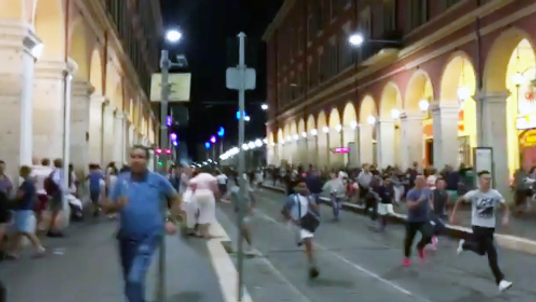 He declared three days of national mourning, beginning on Saturday.
:: Crowds Run From Scene Of Attack In Nice: Video
Graphic footage shows a horrifying succession of bodies strewn along the city's landmark promenade in the lorry's wake.
Analysis of 1,200 CCTV cameras has revealed the terrorist boarded the truck, far from the seaside "in the hills of Nice".
Mr Estrosi said: "Attacks aren't prepared alone. Attacks are prepared with accomplices.
One French newspaper said the truck was initially hired some time on Wednesday.
Witnesses told how people were "flying like bowling pins" as the driver went on the rampage.
One told i-Tele: "We almost died. It was like hallucinating... (the lorry) zig-zagged.
"You had no idea where it was going. My wife... a metre away ... she was dead.
"The lorry ripped through everything. Poles, trees, we have never seen anything like it in our lives.
"Some people were hanging on the door trying to stop it."
Witnesses Heard Children Screaming
Nice-Matin journalist Damien Allemand said the fireworks were over and people were leaving when they heard a noise and cries.
"I saw bodies flying like bowling pins along its route. Heard noises, cries that I will never forget."
Screams and cries can be heard as dazed witnesses lean over the bodies, looking for survivors.
Items of clothing and shoes are scattered across the blood-stained pavement.
Images show the windscreen of the 25-tonne lorry riddled with bullet holes.
Foreign Secretary Boris Johnson said that at least one Briton had been injured in the atrocity.
Two Americans, a father and his 10-year-old son, have been confirmed among the dead, a US official said.
Russians and Estonians were also injured.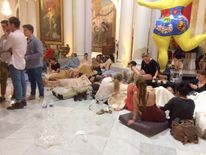 Lawyer Harjit Sarang and her children were among those caught up in the terror.
The Londoner tweeted: "Running through crowds in Nice with kids and terrified.
"Can't stop shaking. Hate that my boys had to experience this. Why did I take them.
"Why did they do this and why the **** is this happening!"
There has been no claim of responsibility.
However, a police source has identified the attacker as a 31-year-old Franco-Tunisian born in Tunisia.
This tallies with the profile of a man whose identity papers were reportedly discovered inside the vehicle.
A police source quoted by news agency AFP said the papers belonged to a resident of Nice.
:: Attack In Nice: 'ID Of French-Tunisian In Truck'
In a live TV address, Mr Hollande said there is "no denying the terrorist nature of this attack".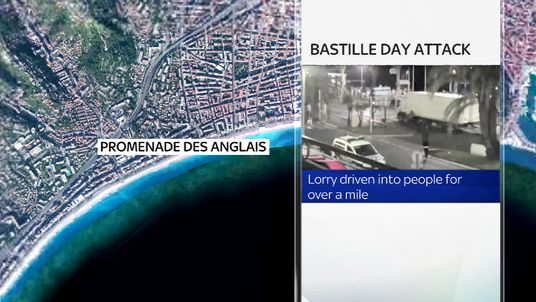 He pledged to strengthen France's role in Syria and Iraq.
He also extended the nation's state of emergency - imposed after November's attacks in Paris - for a further three months.
At least 18 people remain in a critical condition, with hospitals in the area appealing for blood.
Laurence Marie, who works at Lenval paediatric hospital, has said "many" children are undergoing serious operations there.
Nice's famous luxury Negresco hotel, meanwhile, has been turned into a makeshift ward.
Dozens of frightened and injured victims gathered in the marble lobby.
The Paris prosecutor's office has opened an investigation for "murder, attempted murder in an organised group linked to a terrorist enterprise".
The probe is being handled by France's intelligence agency and judicial police.
he city of Marseille has cancelled its fireworks show on Friday after the attack.
A Rihanna concert scheduled for Friday night at the Allianz Riviera stadium in Nice has also been cancelled
In Britain, Labour leadership hopeful Owen Smith announced that he would be cancelling his campaign launch.
The attack comes days after France breathed a sigh of relief after hosting the Euros 2016 without incident.
The tournament took place under heavy security following the Paris attack that left 130 dead.
http://news.sky.com/story/massacre-in-nice-84-die-as-truck-hits-crowd-10502068