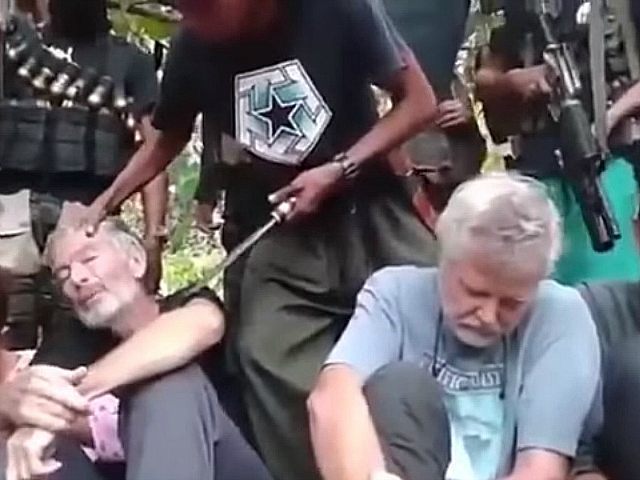 Image: by Edwin Mora http://www.breitbart.com
Two Canadian hostages have surfaced in a video to make a "final urgent appeal" for their government to save them from imminent decapitation by the Islamic State (ISIS/ISIL)-linked jihadist group Abu Sayyaf in the Philippines.
In a video that emerged Friday, the two Canadians, identified as John Ridsdel and Robert Hall, speak directly to the camera with machetes pressed against their throat, reports Canada's National Post.
Filipino woman Marites Flor and Norwegian Kjartan Sekkingstad are also being held captive.
"We're told this is the absolute final warning, the final urgent appeal to governments — Philippine, Canadian — and families," Riddle reportedly says. "If 300 million [Philippine pesos, or $8.3 million] is not paid for me by 3 p.m. on April 25th, they will behead me."
Echoing Ridsdel, Hall adds, "My specific appeal is to the Canadian government, who I know has the capacity to get us out of here. I'm wondering what they're waiting for."
The two-minute video concludes with a masked militant reiterating the April 25 deadline, warning that if it is ignored, "We will certainly behead one of these four."
Ridsdel, Hall, Sekkingstad, and Flor were all taken hostage on September 21, when armed members of Abu Sayyaf stormed the Holiday Ocean View Samal Resort off the southern coast of Mindanao, notes The Toronto Star.
The Norwegian worked as the resort's manager.
Referring to a previous deadline that had not been met, a masked jihadist, speaking directly to the camera, says that the "deadline of warning is over."
"Still, you procrastinate. So now this is already an ultimatum. Once you don't meet the demand, we will certainly behead one amongst this four," he adds.
The jihadists are asking for an estimated 1 billion...
https://www.longroom.com/discussion/38502/islamic-state-linked-filipino-group-announces-date-to-behead-hostages